Chevrolet Silverado RST is the first-ever all-electric pickup truck introduced by the Chevrolet company. It is currently in the production phase, and will be available by Fall 2023.
Explore the Chevy Silverado EV Towing Capacity
Smart, Agile, Aerodynamic, and fast speed are the key performance indicators of the Silverado EV. As claimed by the company, it is not just an electric pick-up truck but a true game changer.
Silverado RST will offer a GM-estimated range of up to 400 miles on a full charge. It will achieve 0-60 mph in approximately 54.5 seconds. Plenty of charging options will be available to keep batteries energetic at all the time.
When it comes to pickup trucks, towing capacity is always a concerning factor. Almost all pickup vehicles are equipped with enough power, and accessories to pull trailer, motorboats, campers, RVs, and other equipment. But the question here is, are EV pickup trucks capable of towing?
The EV industry is slowly gaining momentum, and we can see various EV pickup trucks in the market along with upcoming models. Chevrolet Silverado RST EV is the upcoming powerful all-eletric pick-up truck that offers a good towing capacity.
How much can the Electric Silverado Tow?
Chevrolet Silverado RST is an upcoming electric pickup truck that is expected to become available from Fall 2023. However, customers can book the RST as the reservations are already available.
Talking about the towing capacity, the actual tow statistics of the Silverado EV will be available once the vehicle goes through tow testing. For now, the company has claimed the Silverado RST will offer a maximum towing capacity of 10,000 lbs, and the future model Silverado WT will offer up to 20,000 lbs.
Chevy Silverado EV Towing Capacity, Range, and Starting Price
| | | | |
| --- | --- | --- | --- |
| Chevrolet EV Models | Towing Capacity | EPA-Estimated Range | STARTING PRICE |
| Silverado RST | 10,000 pounds | 400+ miles | $39,900 |
| Silverado WT (Future Model) | 20,000 pounds | 400+ miles | $39,900 +DFC |
The towing capacity of 10,000 lbs on RST is supported by efficient electric power, greater maneuverability, and enhanced handling. The maximum power of 660 hp, and a maximum torque of 780 lb.-ft. is generated by the Silverado EV with wide-open watts.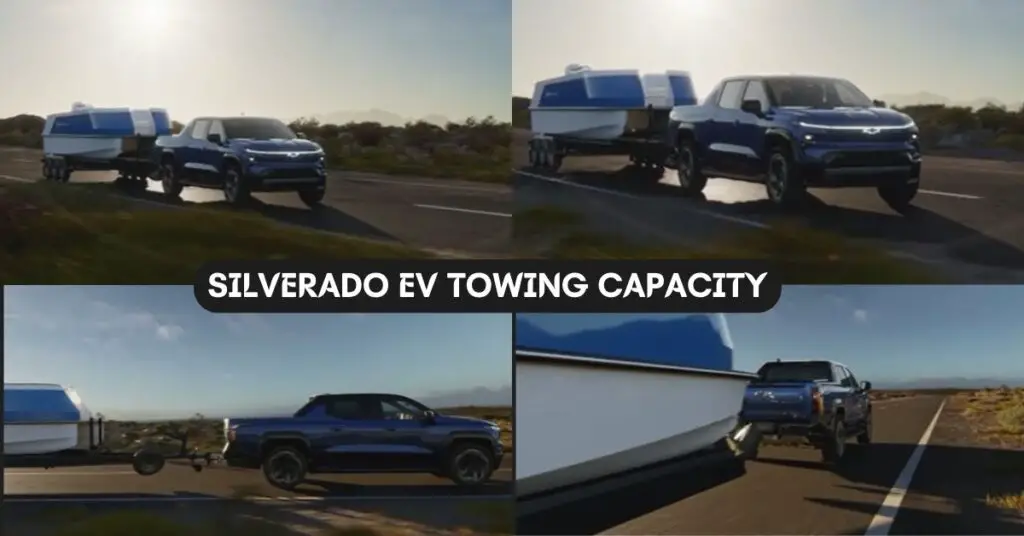 It will be equipped with an E-4WD system that is capable of delivering nearly instantaneous torque to all four wheels simultaneously. Besides, Four-wheel Steer, and Four-Corner Air Ride Adaptive Suspension will also be available for the RST.
The Silverado RST will be equipped with Ultium, and Ultifi which are the name for electric platforms. The Ultium platform is introduced to enhance electric performance, powerful torque, and zero emissions. It is Chevy's electric solution for the future.
Ultifi is the General Motors software platform that enables seamless delivery of upgrades, updated apps, regularly pushed software improvements, and various other personalization options.
Owners can charge their Chevrolet Silverado RST at home (Level 1 & Level 2 Charging available) or at public charging stations. Level 2 charging is available for home charging but it needs to be installed by the professional technical team. Level 1 is a 120-volt charging whereas Level 2 offers charging capacity of 240-volt.
Chevrolet will install over 43,000 DC Public public charging stations. The DC Public Charging system can add a GM estimated range of 100 miles in only 10 minutes.
Can the Silverado EV tow a 5th wheel?
A 5th Wheel Camper is a camping trailer that can be towed by powerful pickup trucks via a hitch mounted in the center of the truck bed. It requires a 5th wheel hitch for towing, and connects to the bed of a pickup truck.
The empty weight of a 5th Wheel Camper ranges between 5,000 lbs to 16,000 lbs whereas the GVWR is between 17,000 lbs and 20,000 lbs. 
The max-rated towing capacity of the Chevy Silverado RST Pickup truck is 10,000 lbs, and it could be optimized with the max towing packages. We will find it out once the production phase rolls out. 
A 5th wheel camper with cargo can weigh above 10,000 lbs. That's why Silverado EV won't be able to tow heavy-weight 5th wheel campers however, we can expect it to tow a lot of light-weight 5th wheel campers. But, the future model WT could tow a 5th wheel camper due to the expected maximum towing capacity of 20,000 lbs.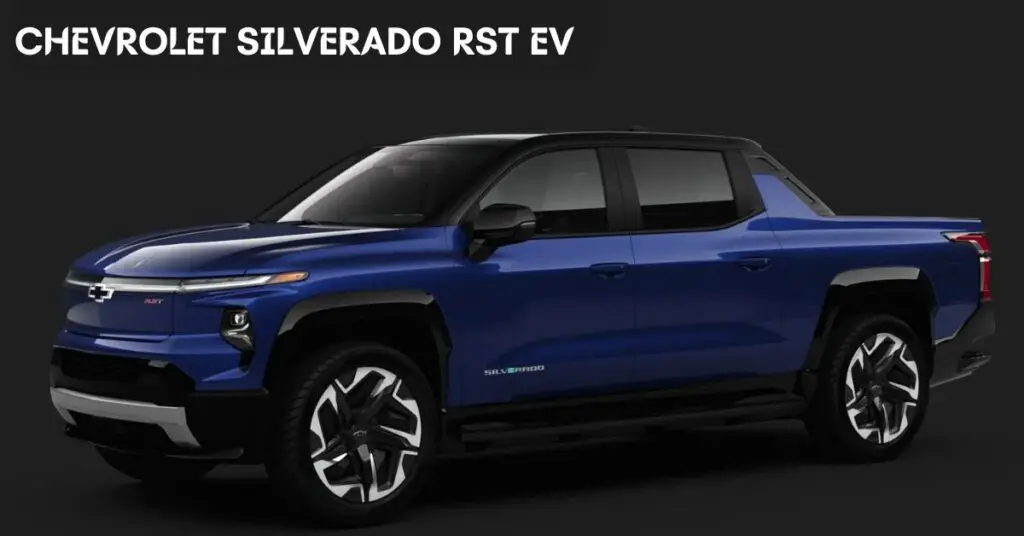 Conclusion on Chevy Silverado EV Towing Capacity
The Chevy Silverado RST is one of the powerful all-electric light-duty trucks designed, and developed by Chevrolet. This awesome electric truck is nearing the production phase, and could be available 
At present, customers can reserve their Chevy Silverado RST by paying $100 via the official website. Vehicle configuration will be available once the company rolls out the production phase.
As we were discussing the Chevy Silverado EV Towing Capacity, we found out the max-rated towing capacity is 10,000 lbs with the RST variant. Besides, a maximum towing capacity of 20,000 lbs could be offered by the future Silverado WT model.
We will post all the details about the towing capability, availability of towing packages & accessories, and other towing-related information on the Silverado RST EV when it gets available.
Explore More
Tesla Cybertruck Towing Capacity
Ford F-150 Lightning Towing Capacity
Tesla Model X Towing Capacity
Stellan Carter is an accomplished writer, entrepreneur, and avid Ford Raptor owner. As a co-founder and content contributor for this renowned blog website, Stellan brings a wealth of knowledge and expertise to the automotive industry. When he's not behind the wheel of his beloved Ford Raptor, Stellan can be found exploring new terrains, capturing the essence of his automotive adventures through his camera lens.