Tesla Model X towing capacity 2022
Tesla is an electric car company known for its outstanding engineering and futuristic designs. The company building 100% electric cars is establishing itself in going electric fundaments gaining customers around the world. The brand TESLA is preferred by many electric car buyers as their first choice for its unique stance and the modern technology it offers.
The Tesla Model X is designed to be the safest car on the road built fully in electric SUV form. All new Model X comes with the Tow Package allows you to tow a trailer and Tow Mode which vigorously monitors trailer sway and changes wheel braking and speed accordingly. The Model X allows you to carry skis, snowboards, bicycles, etc. by attaching an accessory carrier to the hitch. Read this article for understanding the capability, features, guidelines, and safety precautions for Tesla Model X to tow your cargo in the right way.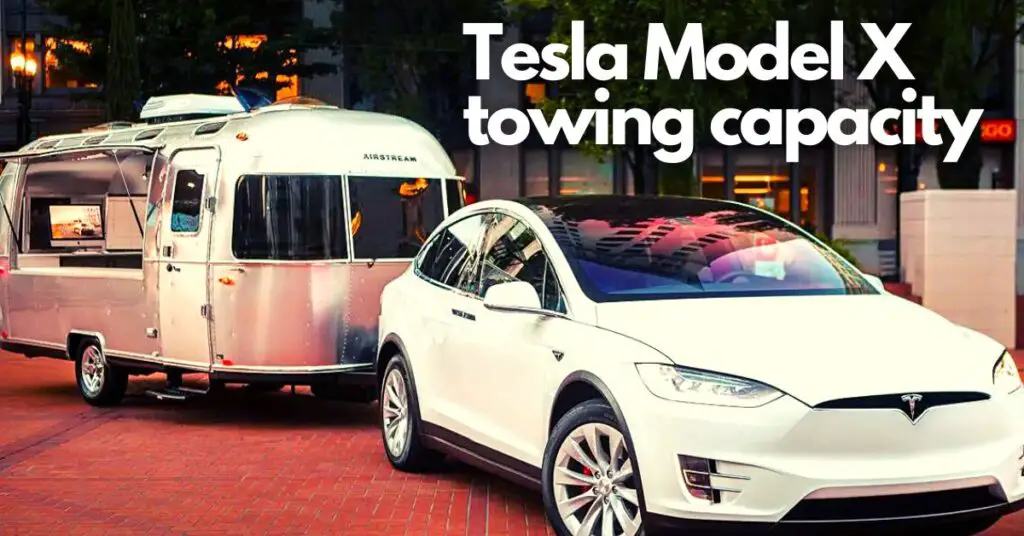 Tesla Model X towing capacity chart
| | |
| --- | --- |
| Tesla Model X trim levels | Tesla Model X towing capacity |
| Tesla Model X | 3,500 – 5,000 lbs |
| Tesla Model X Plaid | 3,500 – 5,000 lbs |
The above-shown numbers are subject to change and are for reference purposes only.
Tesla Model X Towing Carrying Accessories
The Tesla Model X towing package has a 2″ hitch receiver that can support an accessory carrier once connected. The hitch receiver is designed to support vertical loads of up to 120 lbs (54 kg). When carrying bicycles or other items on the Model X hitch, always check to ensure that the maximum weight is not exceeded.
Towing Capacity Tesla Model X
The total trailer weight including all cargo and additional equipment, and the trailer tongue weight, must never exceed. Tesla recommends a separate braking system on trailers with a loaded weight of over 1000 lbs. Carrying a substantial amount of supplies, passengers, or cargo in the tow vehicle can reduce the tongue weight it can handle, which also reduces the maximum towing capacity. Follow the instructions provided by the trailer brake manufacturer to ensure that trailer brakes are properly installed, adjusted, and maintained. 
| Tires | Maximum Towing Capacity |
| --- | --- |
| 275/45R20 110 V / Y | SAE Class III – 5,000 lb (2,300 kg) |
| 285/35R22 106 W | SAE Class II – 3,500 lb (1,588 kg) |
The above-shown numbers are subject to change and are for reference purposes only.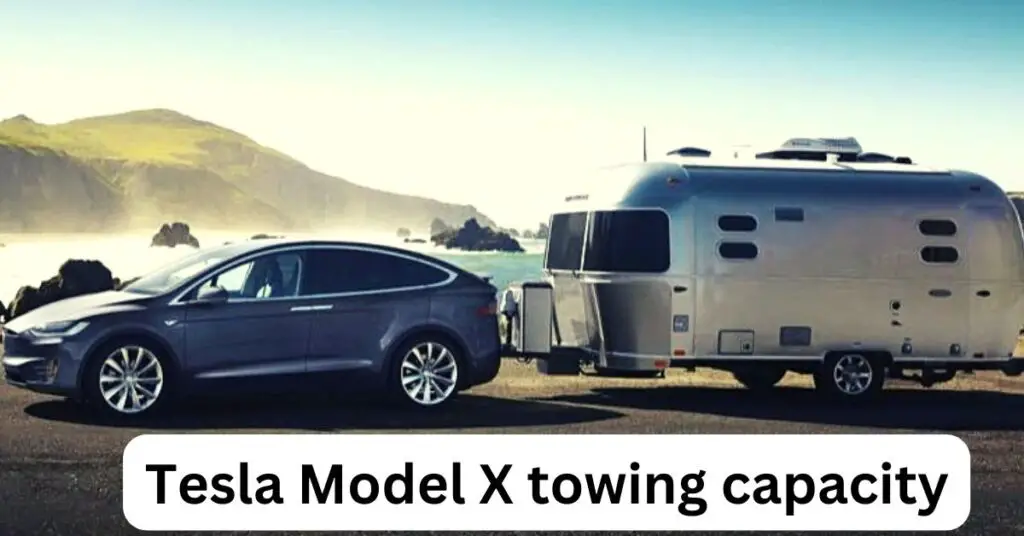 What should tire pressure be with a heavy load?
When towing a trailer in Tesla Model X, tire pressures must be changed to adjust the extra load for towing, carrying heavy loads, or extended highway travel. The load does not particularly raise the pressure in the tire, but not inflating the tire more will increase friction heating up the tire. With correct pressure provides correct contact area preventing wear on the tire and maintaining rolling friction low. Tires inflated to the pressures shown below with these pressures override the pressures that are provided on the Tire and Loading details.
| Tesla Model X Front Tires | Tesla Model X Rear Tires | Cold Tire Inflation Pressure |
| --- | --- | --- |
| 255/45R20265/45R20 | 275/45R20 | 46 psi (320 kPa) |
| 265/35ZR22 | 285/35ZR22 | 50 psi (345 kPa) |
The above-shown numbers are subject to change and are for reference purposes only.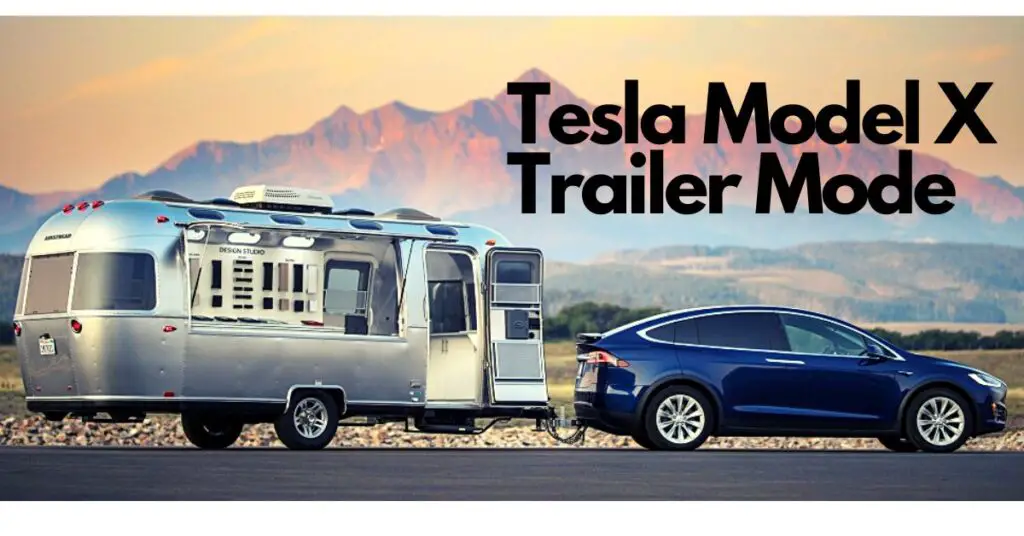 What is the Trailer mode in Tesla Model X?
When towing a trailer "Trailer Mode" must always be active, also Tesla Model X automatically engages if the trailer's electrical connection is connected to the vehicle. Once the trailer's electrical connection disconnects the Trailer Mode disengages itself. It also can be manually controlled on the touchscreen to engage or exit Trailer Mode.
Trailer Mode is active when the blue trailer icon displays on the instrument panel. Model X detects a connection for trailer lights but Trailer Mode is disabled. It is likely that a carrying accessory that has been connected can be figured when the yellow color trailer icon shows on display. Model X detects a flawed electrical connection with the red icon appearing on the display indicating for the trailer lights may not be functioning.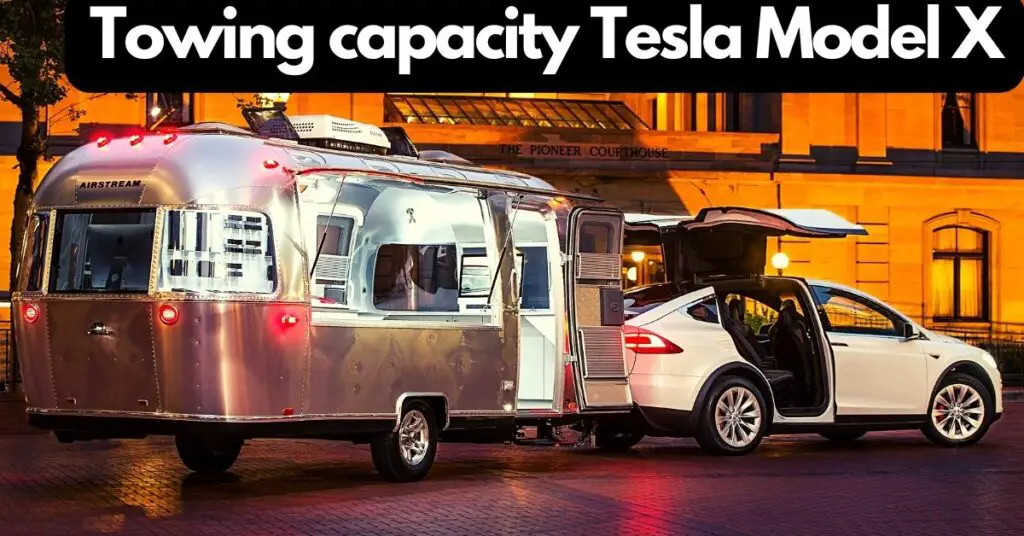 How do Tesla trailer Brakes help in towing?
Tesla advises that the trailer be equipped with its own brake system good for the loaded trailer that weighs more than 1000 lbs (450 kg). A brake controller must be bought separately, and the required 4-pin pigtail connector can be ordered from Tesla Service. Follow these steps to connect a brake controller:
Connect the wiring on the brake controller to the proper locations on the 4-pin pigtail connector.
Remove the cover located under the dashboard in the driver's side foot well.
Skin back the carpet to reveal Model X's 4-pin connector on the wiring harness.
Connect the pigtail connector to the vehicle wiring connector.
What are the features disabled in trailer mode in Tesla Model X?
The Autopilot features like Automatic steering interventions, Summon, Lane Assist, and rear parking sensor functionality, may not be available when Trailer Mode is active. In addition, some features may work differently. For example, Traffic-Aware Cruise Control increases the following distance from the car in front of you. The air suspension system does not raise ride height and will not make speed-based adjustments from Medium to Low. The braking force provided by Automatic Emergency Braking is very limited.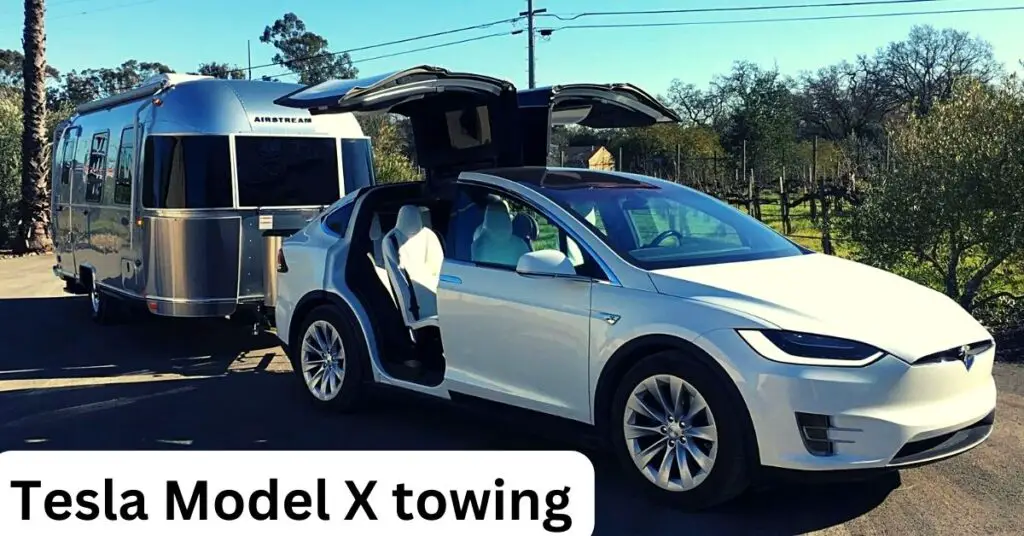 Before Towing with a Tesla Model X things to know
Inflate tires to the cold tire inflation pressure specified in Tire Pressures when Towing.
The vehicle's Adaptive Suspension Damping is set to advance, then set the Suspension height to Medium height.
Adjust side mirrors to provide a clear rearward view without a significant blind spot.
Model X rests horizontally with the trailer attached, check that you are not surpassing the maximum towing capacity and tongue loads provided in Carrying Capacity.
All trailer hitch parts and attachments, safety chains, and electrical connectors are in good condition and are properly connected.
Trailer lights (brake lights, turn signal lights, and marker lights) are working properly.
The trailer tongue is securely connected to the hitch ball.
Safety chains are properly connected between the trailer and the tow vehicle ensuring that the chains can never drag on the ground.
The trailer load is evenly distributed such that the trailer tongue weight is approximately 10% of the total trailer weight.
If the trailer is equipped with a separate braking system, you must balance the trailer brakes with the vehicle brakes to safely stop the ability to work properly.
Explore more 
Tesla Cybertruck towing capacity 
What is Trailer Sway Mitigation in Model X?
When trailer sway is witnessed, the Model X electronic stability control system endeavors to apply the right amount of braking to minimize trailer sway. The instrument panel briefly displays the traction control system indicator. The wind is the most familiar reason for a trailer sways powerful force pushing your trailer from one side or the other that is traveling at high speeds.
Does towing affect the range of Model X?
Towing a trailer and hauling accessories increases vehicle weight and drag. As a result, driving range can decrease quite significantly. Although Trip Planner tries to revise calculations based on Trailer Mode, exact energy consumption may differ. The long journey plan trip should be calculated with the total distance to be covered and charging destinations readily available accordingly.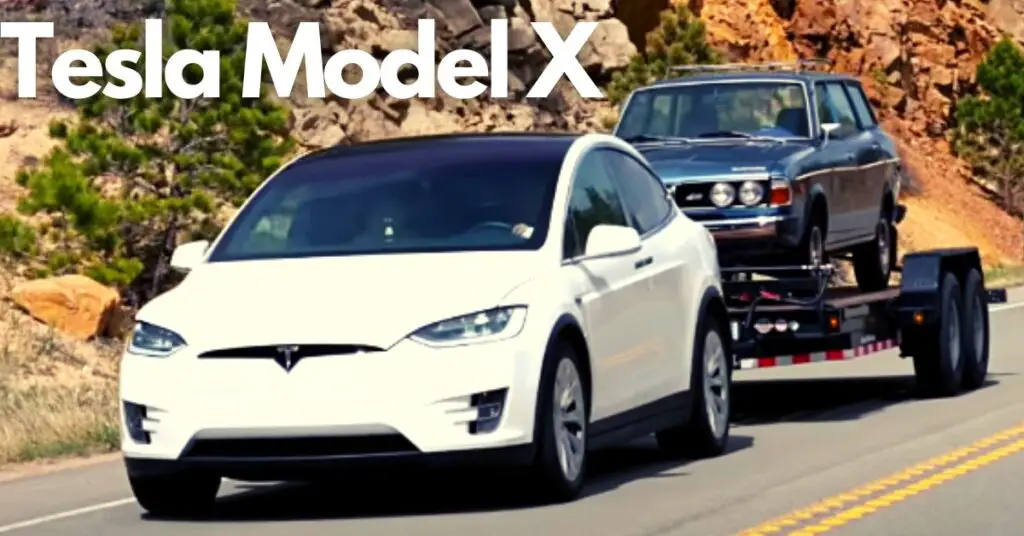 Tesla Model X towing guidelines
Tesla Model X is designed especially as a passenger-carrying vehicle. Towing a trailer puts a further load on the motors, drive train, brakes, tires, and suspension and decreases driving range. If you choose to tow a trailer in Model X, move with caution and follow these guidelines while driving:
When towing a trailer, stability, turning radius, stopping distance, and braking performance are different so reduce your driving speed and avoid sudden maneuvers.
Increase your following distance by maintaining at least twice the distance from a vehicle ahead. Sudden braking may result in skidding or jack-knifing, and loss of control.
Avoid sharp turns that can cause the trailer to contact the vehicle and cause damage. Therefore, make wider turns to prevent the trailer from hitting curbs, road signs, trees, or other objects.
Frequently Asked Questions
Can you tow with a Tesla Model X?
Yes, towing is possible in Tesla Model X comes towing package and carrying accessories that can support an accessory carrier. The  2″ hitch receiver is designed to keep vertical loads of up to 120 lbs (54 kg). Also, the large trailers can be hauled to a specific maximum weight that is not exceeded.
How many pounds can Tesla Model X tow?
A Tesla Model X can tow up to 5,000 pounds, it depends upon the tire size whether to choose between 20 in. or 22 in. which varies the towing capacity of the vehicle. With the 22 in. tires model X can carry 3,500 lbs and 20 in. tires fitted can carry 5,000 lbs load trailer.
Aaron Bennett is an accomplished author and a true aficionado when it comes to pickup trucks. With an unwavering passion for all things automotive, Aaron has dedicated his life to exploring the world of pickups and sharing his expertise with others. As the proud owner of several powerful machines, he has spent countless hours behind the wheel, navigating rugged terrains and conquering highways with unrivaled enthusiasm.