The Tesla Cybertruck is a light-duty all-electric truck that is currently under production, and could be seen on the road within mid-2023. Cybertruck is the name for strength, speed, and versatility.
Explore the Towing Capacity of Tesla Cybertruck
Cybertruck is available in three different models including Single Motor RWD, Dual Motor AWD, and Tri-Motor AWD. It can achieve 0-60 mph in just 2.9 seconds with the powerful drivetrain, and low center of gravity.
The awesome electric truck is built with a strong exterior shell, ultra-hard 30X cold-rolled stainless steel, Tesla Armor Glass, Vault-Like Storage, Adaptive Air Suspension, and Flexible Interior.
The powerful strength of the all-new Tesla Cybertriuck is backed by excellent traction control, torque delivery, and towing capacity. In this blog, we will explore the towing capacity of Tesla Cybertruck with all available information.
What is the Towing Capacity of Tesla Cybertruck?
The Towing Capacity of the Tesla Cybertruck ranges from 7,500 lbs to a whopping 14,000 lbs. The towing capacity varies according to the Cybertruck variants, vehicle configuration, tow accessories, number of passengers and other customizations.
The Tesla Cybertruck with Single-Motor RWD (Rear-Wheel Drive) can tow up to 7,500 lbs. The Dual-Motor AWD (All-Wheel Drive) variant can tow up to 10,000 lbs while the Tri-Motor AWD variant offers a maximum towing capacity of 14,000 lbs.
Tesla Cybertruck Towing Capacity, Range, and Starting Price
| | | | |
| --- | --- | --- | --- |
| Tesla Cybertruck Variants | Towing Capacity | EPA-Estimated Range | STARTING PRICE |
| Single-Motor | 7,500 pounds | 250+miles | $39,900 |
| Dual-Motor | 10,000 pounds | 300+miles | $49,900 |
| Tri-Motor | 14,000 pounds | 500+miles | $69,900 |
Customers can book their Tesla Cybertruck by paying just $100. For that, they need to visit the Tesla Official site and order the Cybertruck. However, the vehicle builds, and configuration is not available yet.
For now, the following Technical Specifications are available for the upcoming Tesla Cybertruck.
Tesla Cybertruck Technical Specifications
Technical Details
Specifications
DRIVETRAIN
REAR-WHEEL DRIVE (Single-Motor)
ALL-WHEEL DRIVE (Dual-Motor)
ALL-WHEEL-DRIVE (Tri-Motor)
RANGE
250+ MILES (Single-Motor)
300+ MILES (Dual-Motor)
500+ MILES (Tri-Motor)
0-60 MPH
<6.5 SECONDS (Single-Motor)
<4.5 SECONDS (Dual-Motor)
<2.9 SECONDS (Tri-Motor)
STORAGE
100 CU FT
VAULT LENGTH
6.5 FT
TOWING CAPACITY
7,500+ LBS (Single-Motor)
10,000+ LBS (Single-Motor)
14,000+ LBS (Single-Motor)
AUTOPILOT
STANDARD
ADAPTIVE AIR SUSPENSION
STANDARD
GROUND CLEARANCE
UP TO 16″
APPROACH ANGLE
35 DEGREES
DEPARTURE ANGLE
28 DEGREES
All configurations are US specifications only. Global specifications will be developed by Tesla at a later date based on demand.
Does the Cybertruck have a hitch?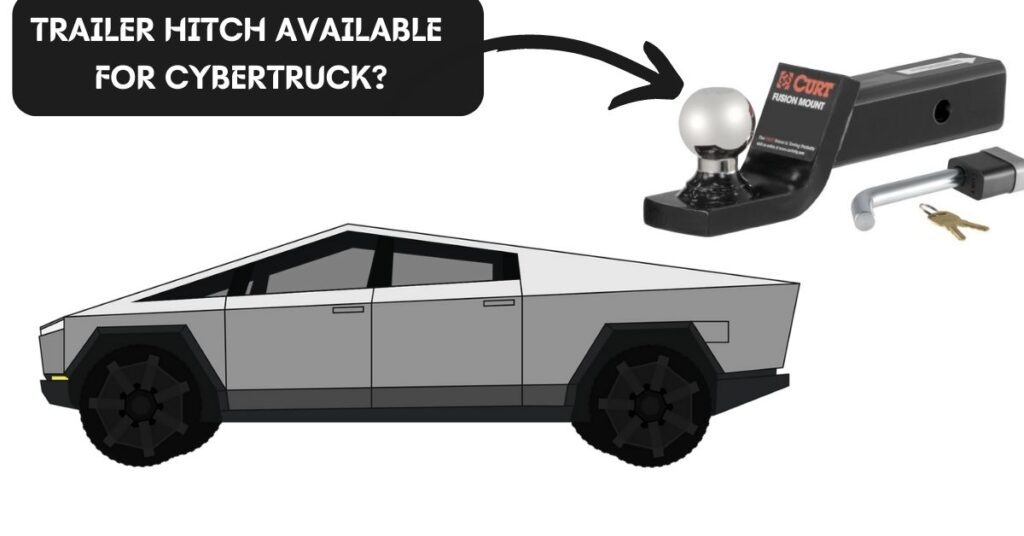 The availability of towing packages including a hitch is not disclosed yet as the vehicle is nearing the production phase. As discussed above, the Tesla Cybertruck offers good towing capacity so, we can expect the all-electric truck will be available with essential towing packages.
Customers can just place an order via Tesla's official website by paying $100. As claimed by the company, customers will be able to complete their Cybertruck's configuration when production nears.
Can a Tesla Cybertruck tow a trailer?
There are various types of trailers such as canoe/kayak trailers, jet ski trailers, fishing boat trailers, utility trailers, pop-up campers, travel trailers, large flatbed trailers, dump trailers, gooseneck flatbed trailers, 5th wheel campers, and much more.
The Gross Vehicle Weight Rating (GVWR) of the trailers ranges from 200 lbs to over 17,000 lbs. GVWR is the maximum amount of weight that the trailer is certified to carry. The empty weight of various available trailers ranges from 100 lbs to over 16,000 lbs.
The maximum towing capacity of the Tesla Cybertruck is 14,000 lbs if equipped with Tri-Motor AWD. Any trailers featuring GVWR below 14,000 lbs can be easily towed by the Cybertruck.
Cybertruck can tow 5th wheel camper, Toy Hauler, Large Travel Trailer, Utility Trailer, Pop Up Camper, boat trailer, and other trailers. The actual towing capability will be unleashed once it gets ready for delivery.
How much can dual motor Cybertruck tow?
The Dual-Motor Tesla Cybertruck comes with AWD (All-Wheel Drive) drivetrain, and offers a maximum towing capacity of 10,000 lbs when properly equipped. The estimated range of the Cybertruck with Dual-Motor AWD is 300+ miles however, it may decline when used for towing purposes.
Can Tesla Cybertruck tow a 5th wheel?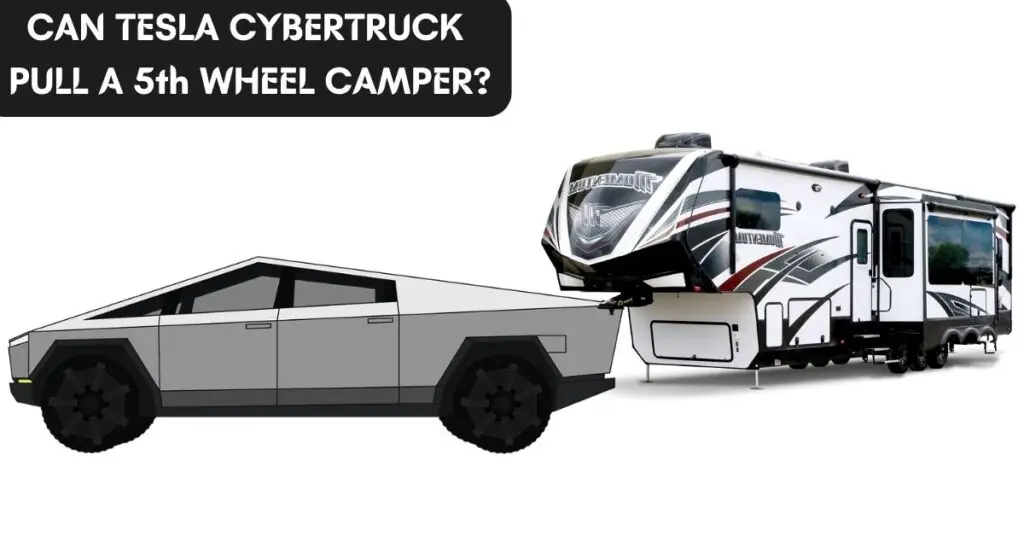 A 5th Wheel Camper is a camping trailer that can be pulled by powerful pickup trucks via a hitch mounted in the center of the truck bed. It requires a 5th wheel hitch for towing, and connects to the bed of a pickup truck.
The empty weight of a 5th Wheel Camper ranges between 5,000 lbs to 16,000 lbs whereas the GVWR is between 17,000 lbs and 20,000 lbs. 
The max-rated towing capacity of the Tesla Cybertruck is 14,000 lbs, and it could be optimized with the max towing packages. We will find it out once the production phase rolls out. 
A 5th wheel camper with cargo can weigh above 10,000 lbs. Cybertruck won't be able to tow heavy-weight 5th wheel campers however, we can expect it to tow a lot of light-weigh 5th wheel campers.
Conclusion on Towing Capacity of Tesla Cybertruck
The Cybertruck is one of the powerful all-electric light-duty trucks designed, and developed by Tesla, the EV leader. This awesome electric truck is nearing the production phase, and could begin actual production in 2023.
At present, customers can only order their Cybertruck by paying $100 via Tesla's website. Vehicle configuration will be available once the company rolls out the production phase.
As we were discussing the towing capacity of Tesla Cybertruck, we found out the max-rated towing capacity is 14,000 lbs with the Tri-Motor AWD variant. The three variants of Cybertruck offer three different towing capacities.
| | |
| --- | --- |
| TESLA CYBERTRUCK VARIANTS | TOWING CAPACITY |
| Single-Motor RWD | 7,500 lbs |
| Dual-Motor AWD | 10,000 lbs |
| Tri-Motor AWD | 14,000 lbs |
The towing capacity of Tesla Cybertruck varies according to the vehicle configuration, Variants, towing accessories, and other customizations.
Auto enthusiasts, Cybertruck customers, and EV lovers are curious to know the actual towing performance of the Tesla Cybertruck. At present, we only have information about the claimed towing capacity of the Cybertruck variants (Single-Motor RWD, Dual-Motor AWD, and Tri-Motor AWD).
Details about the towing capability, availability of towing packages & accessories, and other towing-related information will be available once Tesla comes up with Cybertruck production.
Stellan Carter is an accomplished writer, entrepreneur, and avid Ford Raptor owner. As a co-founder and content contributor for this renowned blog website, Stellan brings a wealth of knowledge and expertise to the automotive industry. When he's not behind the wheel of his beloved Ford Raptor, Stellan can be found exploring new terrains, capturing the essence of his automotive adventures through his camera lens.