In this article, we will explore the towing features of the 2022 Ford Escape and examine how they contribute to its towing capacity. We will also provide a detailed breakdown of the towing capacity for different engine and drivetrain configurations available in the 2022 Ford Escape models. This will include recommendations on preparing for towing, safe towing practices, and considerations for optimal weight distribution and trailer brake usage.
The 2022 Ford Escape has gained significant popularity in the compact SUV segment, offering a versatile and stylish option for urban and adventurous drivers alike. Understanding the towing capacity of a vehicle is essential as it determines the maximum weight a vehicle can safely tow. By exploring towing features, readers will gain valuable knowledge about the vehicle's towing capabilities and make informed decisions regarding its suitability for their towing needs.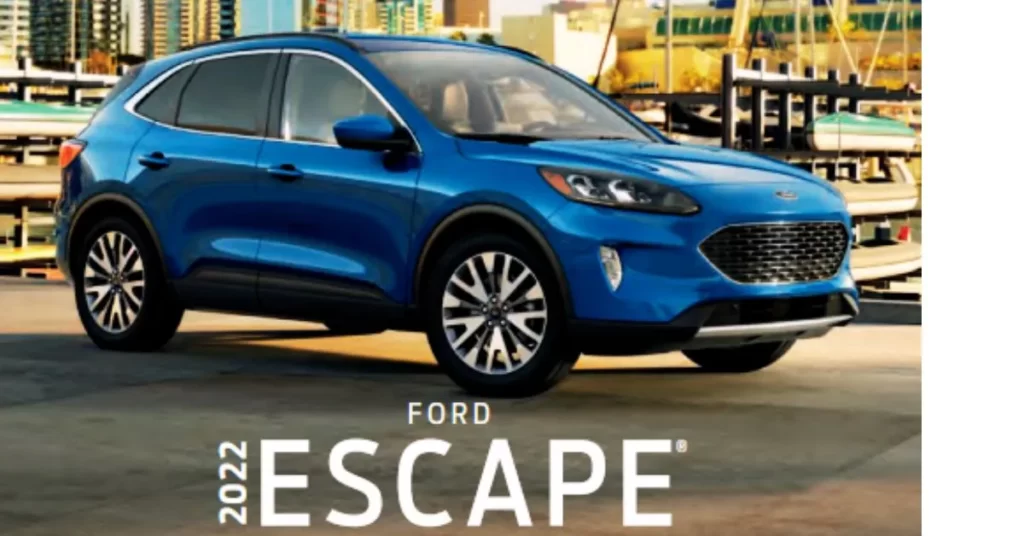 Table of Contents
Towing trailers beyond the maximum recommended gross trailer weight exceeds the limit of your vehicle and could result in engine damage, transmission damage, structural damage, loss of vehicle control, vehicle rollover, and personal injury. Do not exceed the GVWR or the GAWR specified on the certification label. 
2022 Ford Escape towing capacity chart
The 2022 Ford Escape comes in four different models: S, SE, SEL, and Titanium. Let's find out more about all the details of the maximum towing potential of each of the trim levels of the 2022 Ford Escape lineup in the chart below.
| | |
| --- | --- |
| 2022 Ford Escape variants | 2022 Ford Escape towing capacity |
| Ford Escape S | 2,000 lbs. |
| Ford Escape SE | 1,500 – 3,500 lbs. |
| Ford Escape SEL | 1,500 – 3,500 lbs. |
| Ford Escape Titanium | 1,500 – 3,500 lbs. |
The above-shown numbers are subject to change and are for reference purposes only. Requires Class II Trailer Tow Package available on SEL/Titanium Hybrid or SEL/Titanium Plugin Hybrid series.
Note: Specific states require electric trailer brakes for trailers over a specified weight. Be certain to review state regulations for this determined weight. The maximum trailer weights listed could be limited to this specified weight, as the vehicle's electrical system may not include the wiring connector needed to activate electric trailer brakes.
2022 Ford Escape Engine Specs
With a variety of available engines, the 2022 Ford Escape SUV is geared to suit your driving style. The SUV with a choice of four powertrains includes two turbocharged EcoBoost engines, plus a Hybrid and a Plug-in Hybrid. The turbocharged EcoBoost engine also includes Auto Start-Stop Technology models that feature plenty of horsepower and torque for making the most of every ride. Hybrid models use a 2.5L Atkinson-cycle I-4 engine and an electric traction motor for maximum range and fuel economy. You can drive the Plug-in Hybrid in EV (Electric Vehicle) mode when the battery is charged, and continue seamlessly on your way as the vehicle switches to gas power when needed.
| | | | | |
| --- | --- | --- | --- | --- |
| Engine Type | 2.5L Hybrid | 2.5L Plug-In Hybrid | 1.5L EcoBoost | 2.0L EcoBoost |
| Horsepower | 200hp @ 6,250rpm | 201hp @ 6,250rpm | 181hp @ 6,000rpm | 250hp @ 5,500rpm |
| Torque | 155 lb.-ft. @ 4,000rpm | 155 lb.-ft. @ 4,000rpm | 190 lb.-ft. @ 3,000rpm | 280 lb.-ft. @ 3,000rpm |
| Compression ratio | 13.0:1 | 13.0:1 | 11.0:1 | 10.0:1 |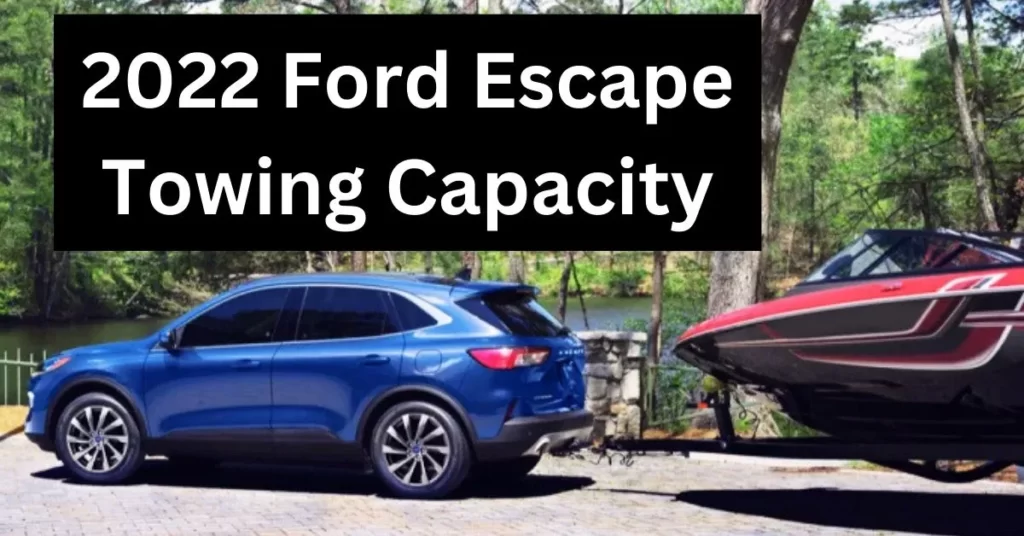 2022 Ford Escape Towing Capacity
1.5L EcoBoost: This engine comes standard with the Ford Escape and is capable of reaching a 2,000-pound maximum towing capacity.
2.0L EcoBoost AWD & Class II Trailer Tow Package: When equipped with the Class II Trailer Tow Package, this engine can achieve a 3,500-pound maximum towing capacity. 
Hybrid 2.5L Hybrid iVCT Atkinson-Cycle I-4: This hybrid engine allows the Ford Escape hybrid towing capacity to reach up to 1,500 pounds.
Plug-In Hybrid 2.5L Hybrid iVCT Atkinson-Cycle I-4: The Ford Escape plug-in hybrid can reach a maximum towing capacity of 1,500 pounds.
| | | | | |
| --- | --- | --- | --- | --- |
| Engine Configuration | Final Drive Ratio | Drive Type | GCWR (lbs.) | Maximum Loaded Trailer Weight (lbs.) |
| 2.5L I4 Hybrid | 2.91 | FWD | 5,470 | 1,500 |
| 2.5L I4 Hybrid | 2.91 | AWD | 5,600 | 1,500 |
| 2.5L I4 Plug-in Hybrid | 2.91 | FWD | 5,820 | 1,500 |
| 1.5L EcoBoost I3 | 3.52 | FWD | 5,670 | 2,000 |
| 1.5L EcoBoost I3 | 3.81 | AWD | 5,830 | 2,000 |
| 2.0L EcoBoost I4 | 3.47 | AWD | 7,460 | 2,000/3,500 |
Reminder: Ford Escape does not offer factory-installed towing equipment for this application; only available as a dealer accessory. Do not exceed the trailer weight for your vehicle configuration listed in the chart above. Maximum weights shown are for properly equipped vehicles with required equipment. Weight of additional options, equipment, passengers and cargo must be deducted from this weight. 
2022 Ford Escape Trailer Towing Package
It is essential that your vehicle includes any optional equipment needed to best perform its expected towing tasks. Class II Trailer Tow Package (3,500 lbs. max with 2.0L; 1,500 lbs. max with 2.5L; not available with 1.5L).
Trailer Wiring Harness (4-Pin)
Hitch Receiver
Aux. Auto Trans. Oil Cooler
Trailer Sway Control
A weight-carrying hitch without weight distribution is commonly utilized when towing small to medium-sized trailers. Opt for a reliable weight-carrying hitch that evenly distributes the tongue loads of the trailer through the bumper and frame. However, please note that the Escape model does not offer a bumper hitch option, and the distribution of load is done through the body. It is your responsibility to obtain the appropriate hitch ball, ball mounting, and other necessary equipment to safely tow both the trailer and its load. The maximum weight capacities for the hitch receivers shown below may exceed the maximum loaded trailer weight for the vehicle specified.
| | |
| --- | --- |
| Hitch Receiver | Max. Tongue Load (lbs.) |
| Ford Escape Hybrid | 150 |
| Ford Escape Plug-in Hybrid | 150 |
| Ford Escape | 350 |
2022 Ford Escape Frontal Area Considerations
Frontal Area refers to the combined area, measured in square feet, that is exposed to air resistance when a vehicle and trailer are in motion. It is crucial to stay within these limits, as surpassing them can noticeably impact the towing vehicle's performance. Therefore, it is important to be mindful of these restrictions to ensure optimal towing performance. The provided chart specifies the maximum frontal area of a trailer that needs to be taken into account when considering a vehicle/trailer combination.
Vehicle
Trailer Frontal Area
Limitations/Considerations
Trailer Tow Package
Ford Escape
20 sq. ft.
Without Class II Trailer Tow Package
30 sq. ft.
With Class II Trailer Tow Package
2022 Ford Escape Tow-Dolly Flexibility
If you find yourself unable to tow your car using the four-wheel-down method behind an RV or motorhome, tow dollies provide a practical solution. These dollies function by lifting and securely supporting the front drive wheels of your vehicle while the rear wheels remain on the ground. Unlike conventional trailers, tow dollies have a shorter length, making it convenient to navigate around corners. This approach allows you to tow your vehicle without the need for a full-length trailer, granting you greater flexibility in your towing endeavors.
| | | |
| --- | --- | --- |
| Vehicle | FWD | AWD |
| Ford Escape Hybrid | Yes | No |
| Ford Escape Plug-in Hybrid | Yes | No |
| Ford Escape | Yes | No |
Before using the tow-dolly, read the manufacturer's instructions that came with the tow-dolly before towing, loading, or unloading the dolly.
Attach the appropriate trailer hitch and drawbar hardware to the vehicle for the tow-dolly.
Attach the dolly to the drawbar. The dolly should be completely secure and on level ground before the vehicle to be towed is put on or taken off the dolly.
Drive the vehicle onto the dolly with its front wheels.
Secure the vehicle to the tow-dolly according to the manufacturer's instructions.
Follow the instructions for attaching and connecting the auxiliary lights to the back of the vehicle being towed.
Test the auxiliary lights to make sure that the turn signals, stop lamps, and running lights work properly.
2022 Ford Escape Four-Wheel-Down Towing
A growing number of motorhome owners find it convenient to bring an additional vehicle along when they go on trips. Towing another vehicle behind the motorhome has gained popularity in recent times due to its practicality. Moreover, many individuals who choose to tow a secondary vehicle prefer one that can be easily done without the use of a dolly or trailer. It is essential to prioritize safety by ensuring that towed vehicles, as well as any accompanying dollies or trailers, are equipped with their own functional brake system. This ensures secure and reliable operation while towing.
Note: Some aftermarket camper centers offer kits that may allow vehicles with automatic transmissions to be flat-towed. Check your new vehicle Warranty Guide, as this could void the warranty of your vehicle.
| | |
| --- | --- |
| Vehicle | Automatic Transmission |
| Ford Escape Hybrid | Yes |
| Ford Escape Plug-in Hybrid | Yes |
| Ford Escape | No |
2022 Ford Escape Towing Guide
Before towing a trailer, make sure you've driven your vehicle for at least 1000 miles.
Avoid exceeding 70 mph while towing.
Follow the provided instructions for correctly installing and adjusting towing accessories.
If you tow a trailer, increase the frequency of servicing your vehicle as recommended in the maintenance schedule.
After traveling 50 miles, thoroughly inspect your hitch, electrical connections, and trailer wheel lug nuts.
In hot weather and heavy traffic, put your gearshift in the "P" position to help cool the engine and transmission, as well as improve air conditioning performance.
Disable the speed control feature when towing heavy loads or driving in hilly terrain. The speed control may automatically turn off on long, steep grades.
When driving down a long or steep hill, shift to a lower gear instead of constantly applying the brakes to prevent overheating and maintain brake effectiveness.
Utilize the Grade Assist or Tow/Haul feature when towing to benefit from engine braking and minimize excessive transmission shifting, promoting better fuel economy and transmission cooling.
Allow for increased stopping distance when you have a trailer attached. Anticipate stops and apply the brakes gradually.
Conclusion
In summary, the 2022 Ford Escape proves to be a commendable choice for SUV owners seeking a vehicle with towing capacity. With its towing features, competitive towing capacity, and positive real-world towing performance, the Escape demonstrates its ability to handle various towing needs. With its range of engine options and drivetrain configurations, the Escape provides versatility and power for towing purposes.
Following these guidelines will help maximize the Escape's towing capabilities and ensure safety on the road. By doing so, owners can confidently utilize the Escape's towing capabilities and enjoy a successful towing experience.
Additionally, we encouraged you to consult with experienced tow operators or vehicle specialists who can provide tailored guidance based on their individual towing requirements. Also, visit the official Ford website or contact local Ford dealerships for more detailed information about towing capabilities and available towing packages.
Explore more:
Ford Escape towing capacity 2023
Frequently Asked Questions
What is the towing capacity of the 2022 Ford Escape?
The 2022 Ford Escape is a class-leading compact SUV offering a range of powertrains and incredible towing capability that packs incredible fuel efficiency and capability into one sleek package. The 2022 Ford Escape boasts a towing capacity of up to 3,500 lbs with the available Class II Trailer Tow Package and 2.0L EcoBoost, while additional engine configurations deliver anywhere from 1,500 to 2,000 lbs of towing power.
What Can the 2022 Ford Escape Tow?
The 2022 Ford Escape is packed with features that will help make towing safer and easier. There are four distinct engine options, each with its own towing capacity of as much as 3,500 pounds when properly equipped. It can tow A-frame campers, Teardrop trailers, Small enclosed utility trailers, Small open utility trailers, Fishing boat trailers, Motorcycle trailers, Jet ski trailers, and Canoe/Kayak trailers.
Aaron Bennett is an accomplished author and a true aficionado when it comes to pickup trucks. With an unwavering passion for all things automotive, Aaron has dedicated his life to exploring the world of pickups and sharing his expertise with others. As the proud owner of several powerful machines, he has spent countless hours behind the wheel, navigating rugged terrains and conquering highways with unrivaled enthusiasm.