The 2017 Chevy Colorado, is an automotive masterpiece that seamlessly merges rugged capability with modern versatility. This pickup truck was meticulously designed to conquer the challenging terrain of both bustling city streets and exhilarating off-road adventures. Its commanding presence and striking exterior design turn heads at every corner, showcasing the perfect harmony between strength and elegance.
With a maximum towing capacity of 7,700 pounds when properly equipped with the available 2.8L Duramax turbo-diesel engine. The 2017 Chevrolet Colorado's range of engine options and configurations, offers towing capabilities that can be tailored to suit diverse needs.
Table of Contents
| | |
| --- | --- |
| 2017 Chevy Colorado trim levels | 2017 Chevy Colorado towing capacity |
| Chevy Colorado Base | 3,500 – 7,700 lbs. |
| Chevy Colorado WT | 3,500 – 7,700 lbs. |
| Chevy Colorado LT | 3,500 – 7,700 lbs. |
| Chevy Colorado Z71 | 7,700 lbs. |
| Chevy Colorado ZR2 | 5,000 lbs. |
The above-shown numbers are subject to change and are for reference purposes only. Do not exceed the trailer weight for your vehicle configuration listed in the chart above. Maximum weights shown are for properly equipped vehicles with the required equipment and a driver. The weight of additional options, equipment, passengers, and cargo must be deducted from this weight.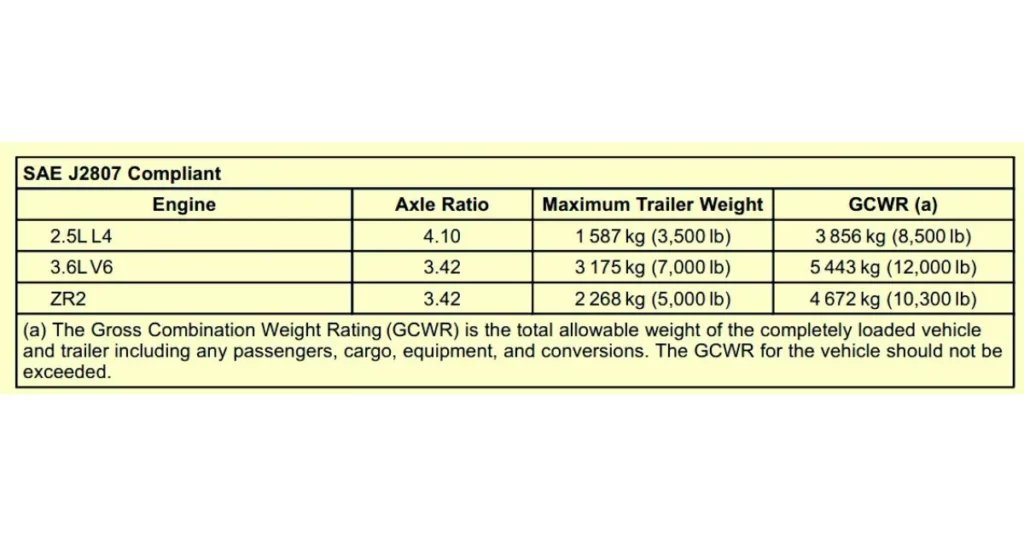 2017 Chevy Colorado Engine Specs
The 2017 Chevy Colorado presents an impressive lineup of engine options that cater to a wide range of driving preferences and demands. Each engine option is engineered to deliver outstanding performance, reliability, and versatility, as a formidable contender in the pickup truck segment. Whether you prioritize fuel efficiency, raw power, or an exquisite balance of both to your specific needs and desires.
2.5L Inline-4 Engine: Its spirited output strikes a perfect harmony between power and efficiency, rendering it ideal for everyday driving and handling lighter hauling tasks.
3.6L V6 Engine: For those yearning for enhanced power and unrivaled capability, the 3.6-liter V6 engine stands as a stellar option. With its larger displacement, it unleashes a thrilling driving experience, effortlessly conquering challenging terrains and effortlessly managing heavier loads.
2.8L Duramax Turbo-Diesel Engine: The powertrain seamlessly merges exceptional fuel efficiency with impressive torque, providing an exceptional choice for individuals seeking optimal towing capabilities and long-range cruising.
| | | | |
| --- | --- | --- | --- |
| Engine | 2.5L 4-Cylinder | 3.6L DOHC V6 | Duramax 2.8L Turbo-Diesel |
| Horsepower | 200 hp | 308 hp | 181 hp |
| Torque | 191 lb.-ft. | 275 lb.-ft. | 369 lb.-ft. |
| Maximum Payload Capacity | 1,440 lbs. | 1,574 lbs. | 1,513 lbs. |
| Maximum Towing Capacity | 3,500 lbs. | 7,000 lbs. | 7,700 lbs. |
2017 Chevy Colorado towing capacity
The 2017 Chevy Colorado has impressive towing capacity, making it a reliable companion for all your hauling needs. When properly equipped, the pickup truck showcases its strength and versatility, offering a range of towing capacities to suit various requirements. The towing capacity varies based on the engine and configuration chosen:
With 2.5L Inline-4 Engine towing capacity: When equipped with this engine, the towing capacity of up to an estimated 3,500 pounds. This enables you to confidently tow smaller trailers, boats, or other recreational items without sacrificing performance or efficiency.
With the 3.6L V6 Engine towing capacity: Opting for the 3.6-liter V6 engine elevates the towing capacity to new heights. When properly equipped, it boasts an impressive maximum towing capacity of up to approximately 7,000 pounds. With this robust capability, you can confidently haul larger trailers, campers, or heavier equipment with ease.
With the Duramax® 2.8L Turbo-Diesel Engine towing capacity: The diesel variant engine option unlocks exceptional towing capacity, reaching an estimated maximum of up to approximately 7,700 pounds. The additional torque and efficiency of the turbo-diesel engine allow for confident towing of heavier loads and greater hauling capabilities.
| | | | |
| --- | --- | --- | --- |
| Engine | Axle Ratio | GCWR (lbs.) | Maximum Trailer Weight (lbs.) |
| 2.5L L4 | 4.10 | 8,500 | 3,500 |
| 3.6L V6 | 3.42 | 12,000 | 7,000 |
2017 Chevy Colorado Towing Package
The 2017 Chevy Colorado optional towing package enhances the truck's towing capabilities, and safety features ensure a seamless towing experience. By equipping with this package, you can confidently tow trailers, campers, boats, or other heavy loads efficiently and securely.
Trailer Hitch Receiver: A heavy-duty trailer hitch receiver designed to provide a secure connection point for attaching a trailer or other towing accessories. It is engineered to withstand the demands of towing, ensuring strength and durability.
Integrated Trailer Brake Controller: The integrated trailer brake controller allows you to control and adjust the brakes on the trailer directly from the driver's seat. It helps maintain stability and control while towing by synchronizing the braking system between the truck and the trailer, enhancing safety and reducing wear on the brake components.
7-Pin Connector: The 7-pin trailer wiring connector enables seamless communication between the truck and the trailer, providing power to the trailer's lights, brakes, and other electrical components. It ensures proper and reliable electrical connections for a safe towing experience.
Enhanced Cooling System: It may consist of upgraded radiators, transmission coolers, and additional cooling components to help maintain optimal operating temperatures, preventing overheating and ensuring the longevity of the truck's mechanical components.
It is available in three cab configurations (extended cab, crew cab, and extended crew cab) and two-bed lengths (5'2″ and 6'2″).
Cab Type
Extended Cab
(6'2" box) (lbs.)
Crew Cab
(5'2" box) (lbs.)
Crew Cab
(6'2" box) (lbs.)
Base curb weight
3,985 (2WD)
4,167 (4WD)
4,028 (2WD)
4,419 (4WD)
4,252 (2WD)
4,476 (4WD)
Max GVWR
5,900 (2WD)
6,100 (4WD)
6,000 (2WD)
6,200 (4WD)
6,000 (2WD)
6,200 (4WD)
Max payload
1,566 (2WD)
1,532 (4WD)
1,574 (2WD)
1,548 (4WD)
1,516 (2WD)
1,492 (4WD)
Max trailering – 2WD
3,500 (2.5L)
7,000 (3.6L)
3,500 (2.5L)
7,000 (3.6L)
7,700 (2.8L)
3,500 (2.5L)
7,000 (3.6L)
7,700 (2.8L)
Max trailering – 4WD
3,500 (2.5L)
7,000 (3.6L)
3,500 (2.5L)
7,000 (3.6L)
7,600 (2.8L)
3,500 (2.5L)
7,000 (3.6L)
7,600 (2.8L)
Before you buy a vehicle or use it for trailering, carefully review the Trailering section of the Owner's Manual. The trailering capacity of your specific vehicle may vary. The weight of passengers, cargo and options or accessories may reduce the amount you can trailer. Also, read the vehicle Owner's Manual for important feature limitations and information.  
2017 Chevy Colorado trims
The 2017 Chevrolet Colorado is a midsize pickup truck that offers a variety of features and options to suit a variety of needs. It is available in extended-cab and crew-cab body styles, with two-bed lengths and five trim levels: Base, Work Truck (WT), LT, Z71, and ZR2.
Based on the weight of the chosen trim series each offering its own unique set of features and characteristics. Whether you prioritize affordability, work functionality, style, or off-road prowess, Colorado offers a trim level that will exceed your expectations. Let's explore the trims available for the 2017 Colorado:
Base: The base trim serves as the foundation of the Colorado lineup. While it focuses on practicality and affordability, it still offers a range of standard features such as a rearview camera, power windows, a 4.2-inch color display, and a USB port. It provides a solid starting point for those seeking a reliable and capable truck without excessive frills.
WT (Work Truck): This trim is well-suited for those seeking a work-oriented truck with practicality at its core. With added functionality and convenience features. It includes features like a chrome rear bumper, air conditioning, power-adjustable mirrors, and a six-speaker audio system.
LT: The LT trim brings a balance between work and play, offering enhanced comfort and connectivity. The features like an 8-inch touchscreen infotainment system, smartphone integration, satellite radio, cruise control, and remote keyless entry bring a touch of style.
Z71: You can confidently take on challenging terrains and enjoy off-road adventures designed for those with an adventurous spirit. It adds off-road capabilities and a rugged appearance including features such as off-road suspension, automatic climate control, heated front seats, a wireless charging pad, and unique styling elements.
ZR2: The range-topping trim combines exceptional off-road capability with advanced technology and comforts. It comes equipped with an array of off-road-oriented features, including a wider track, lifted suspension, locking front and rear differentials, skid plates, and aggressive off-road tires.
Explore more:
2019 Chevrolet Colorado towing capacity.
2018 Chevrolet Colorado towing capacity.
Conclusion
In conclusion, the 2017 Chevy Colorado demonstrates an impressive towing capacity that solidifies its position as a top contender in the pickup truck segment. With a range of engine options and configurations, this exceptional vehicle offers towing capabilities that unleash the full potential of your towing needs to suit various preferences. No matter the task at hand, the Chevy Colorado empowers drivers with the ability to tow with assurance and efficiency from lighter loads to heavier trailers, campers, or equipment with confidence.
Aaron Bennett is an accomplished author and a true aficionado when it comes to pickup trucks. With an unwavering passion for all things automotive, Aaron has dedicated his life to exploring the world of pickups and sharing his expertise with others. As the proud owner of several powerful machines, he has spent countless hours behind the wheel, navigating rugged terrains and conquering highways with unrivaled enthusiasm.