In this informative article, where we explore the towing capacity of the 2019 Ford Escape and analyze how it enhances its hauling capabilities. We'll provide you with a comprehensive breakdown of the towing capacity across various engine and drivetrain configurations available in the 2019 Ford Escape models. Our objective is to offer valuable insights and factual information that will assist you in making an informed decision.
Table of Contents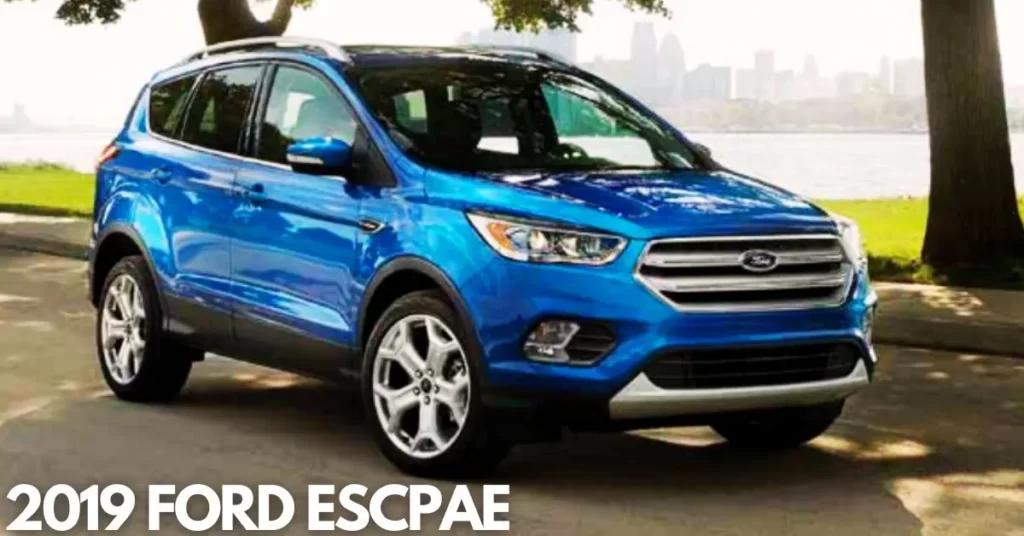 The 2019 Ford Escape, a compact SUV, provides a spacious interior that offers plenty of room for passengers, creating a comfortable and inviting atmosphere. With its advanced connectivity features, the Escape ensures you can stay connected and enjoy entertainment while on the road. It presents a range of powertrain options, allowing you the freedom to select the one that aligns with your personal preferences and driving habits. The Escape excels in fuel efficiency, enabling you to cover more distance with less fuel consumption, all while maintaining its impressive performance levels.
When properly equipped, the 2019 Ford Escape's towing capacity maxes out at 3,500 pounds with its 2.0L EcoBoost engine, but that will change depending on the engine you choose.
2019 Ford Escape towing capacity chart
The 2019 Ford Escape comes in four separate trim levels, each with its own impressive features and advantages: the S, SE, SEL, and Titanium. Let's find out more about all the details of the maximum towing potential of each of the trim levels of the 2019 Ford Escape lineup in the chart below.
| | |
| --- | --- |
| 2019 Ford Escape trim levels | 2019 Ford Escape towing capacity |
| Ford Escape S | 1,500 lbs. |
| Ford Escape SE | 2,000 – 3,500 lbs. |
| Ford Escape SEL | 2,000 – 3,500 lbs. |
| Ford Escape Titanium | 2,000 – 3,500 lbs. |
The above-shown numbers are subject to change and are for reference purposes only.
2019 Ford Escape Engine Specs
Your engine will depend on which level you choose with a variety of available engines, the 2019 Ford Escape SUV is geared to suit your driving style. With every vehicle, you'll get a 6-speed automatic transmission with SelectShift capability, letting you seamlessly switch between gears for a smooth, comfortable driving experience.
2.5L i-VCT: The 2.5L engine provides 168 horsepower and 170 lb-ft of torque. You also get Active Grille Shutters and an Easy Fuel capless fuel filler, which are standard on every 2019 Escape. This engine comes standard with the Ford Escape and is capable of reaching a 1,500 pounds maximum towing capacity.
1.5L Ecoboost: The robust low-end torque with this turbocharged, direct-injection engine, gives you 179 horsepower and 177 lb-ft of torque. Auto Start-Stop Technology on EcoBoost engines helps reduce fuel consumption when the vehicle comes to a stop during city driving. This engine allows the Ford Escape towing capacity to reach up to 2,000 pounds.
2.0L Ecoboost: This engine's twin-scroll turbocharger maximizes pulse energy to the turbine wheel when needed most during passing or highway merging. This one comes with 245 horsepower and 275 lb-ft of torque on tap, making for powerful, streamlined performance. Expect quick torque delivery and immediate responsiveness. When equipped with the Class II Trailer Tow Package, this engine can achieve a 3,500-pound maximum towing capacity. 
Towing trailers beyond the maximum recommended gross trailer weight exceeds the limit of your vehicle and could result in engine damage, transmission damage, structural damage, loss of vehicle control, vehicle rollover, and personal injury. Do not exceed the GVWR or the GAWR specified on the certification label. 
| | | | | |
| --- | --- | --- | --- | --- |
| Engine Configuration | Final Drive Ratio | Drive Type | GCWR (lbs.) | Maximum Loaded Trailer Weight (lbs.) |
| 2.5L I4 | 3.51 | FWD | 5,351 | 1,500 |
| 1.5L EcoBoost I4 | 3.21 | FWD | 5,862 | 2,000 |
| 1.5L EcoBoost I4 | 3.51 | 4WD | 6,005 | 2,000 |
| 2.0L EcoBoost I4 | 3.07 | FWD | 7,457 | 3,500* |
| 2.0L EcoBoost I4 | 3.07 | AWD | 7,591 | 3,500* |
*Includes Class II Trailer Tow Package.
The maximum trailer weights listed above may be limited to this specified weight, as the electrical system does not include the wiring connector needed to activate electric trailer brakes.
Reminder: Ford Escape does not offer factory-installed towing equipment for this application; only available as a dealer accessory. Do not exceed the trailer weight for your vehicle configuration listed in the chart above. Maximum weights shown are for properly equipped vehicles with required equipment. Weight of additional options, equipment, passengers and cargo must be deducted from this weight.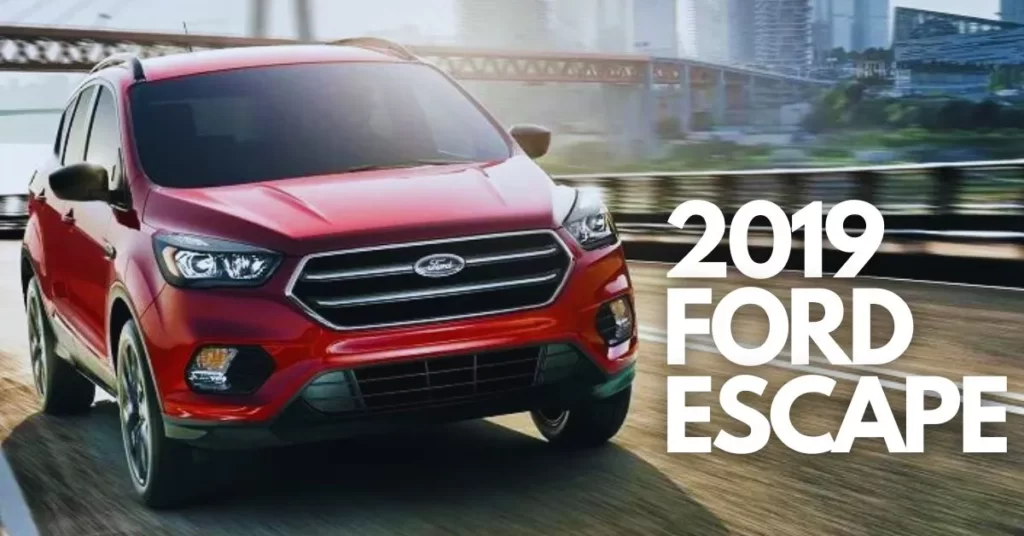 2019 Ford Escape Trailer Towing Package
It is essential that your vehicle includes any optional equipment needed to best perform its expected towing tasks. The optional towing package is only available for the Escape 2.0-liter EcoBoost 4WD models. The 2019 Ford Escape comes with BLIS (Blind Spot Information System) with Cross-Traffic Alert as part of the Ford Safe and Smart Package. Using radar technology, a series of alerts will sound if a vehicle is detected entering your blind spots. It's a great way to stay safe and alert while on the roads, no matter what you might be towing behind you.
Trailer Wiring Harness (4-Pin)
Hitch Receiver
Aux. Auto Trans. Oil Cooler
Trailer Sway Control
Note: Specific states require electric trailer brakes for trailers over a specified weight. Be certain to review state regulations for this determined weight. 
A weight-carrying hitch without weight distribution is commonly utilized when towing small to medium-sized trailers. Opt for a reliable weight-carrying hitch that evenly distributes the tongue loads of the trailer through the bumper and frame. However, please note that the Escape model does not offer a bumper hitch option, and the distribution of load is done through the body. It is your responsibility to obtain the appropriate hitch ball, ball mounting, and other necessary equipment to safely tow both the trailer and its load. The maximum weight capacities for the hitch receivers shown below may exceed the maximum loaded trailer weight for the vehicle specified.
| | |
| --- | --- |
| Hitch Receiver | Max. Tongue Load (lbs.) |
| Ford Escape | 350 |
2019 Ford Escape Frontal Area Considerations
Frontal Area refers to the total area, measured in square feet, that faces air resistance when a vehicle and trailer are moving. It's important to stay within these limits because going over them can noticeably affect how well the towing vehicle performs. So, it's crucial to be aware of these restrictions to ensure the best possible towing experience. The chart we've provided specifies the maximum frontal area of a trailer that you need to consider when deciding on a vehicle/trailer combination.
Vehicle
Trailer Frontal Area
Limitations/Considerations
Trailer Tow Package
Ford Escape
20 sq. ft.*
Without Class II Trailer Tow Package
30 sq. ft.
With Class II Trailer Tow Package
*Base vehicle frontal area
2019 Ford Escape Tow-Dolly Flexibility
If you can't tow your car behind an RV or motorhome using the four-wheel-down method, tow dollies offer a practical solution. These dollies work by lifting and securely supporting the front wheels of your vehicle while the rear wheels stay on the ground. Unlike regular trailers, tow dollies are shorter, which makes it easier to maneuver around corners. This method allows you to tow your car without needing a full-length trailer, giving you more flexibility in your towing adventures.
| | | |
| --- | --- | --- |
| Vehicle | FWD | AWD |
| Ford Escape Hybrid | Yes | No |
| Ford Escape Plug-in Hybrid | Yes | No |
| Ford Escape | Yes | No |
2019 Ford Escape Four-Wheel-Down Towing
It is becoming more and more common for motorhome owners to travel with a second vehicle. Because it is convenient, towing a second vehicle behind a motorhome has grown in popularity. When towing a second vehicle, many individuals opt for an easy method that doesn't require a dolly or trailer. To ensure safety, it is essential to confirm that any dollies or trailers, as well as the car being towed, have functional brakes. This guarantees safe and dependable operation while towing.
Note: Some aftermarket camper centers offer kits that may allow vehicles with automatic transmissions to be flat-towed. Check your new vehicle Warranty Guide, as this could void the warranty of your vehicle.
| | |
| --- | --- |
| Vehicle | Automatic Transmission |
| Ford Escape Hybrid | Yes |
| Ford Escape Plug-in Hybrid | Yes |
| Ford Escape | No |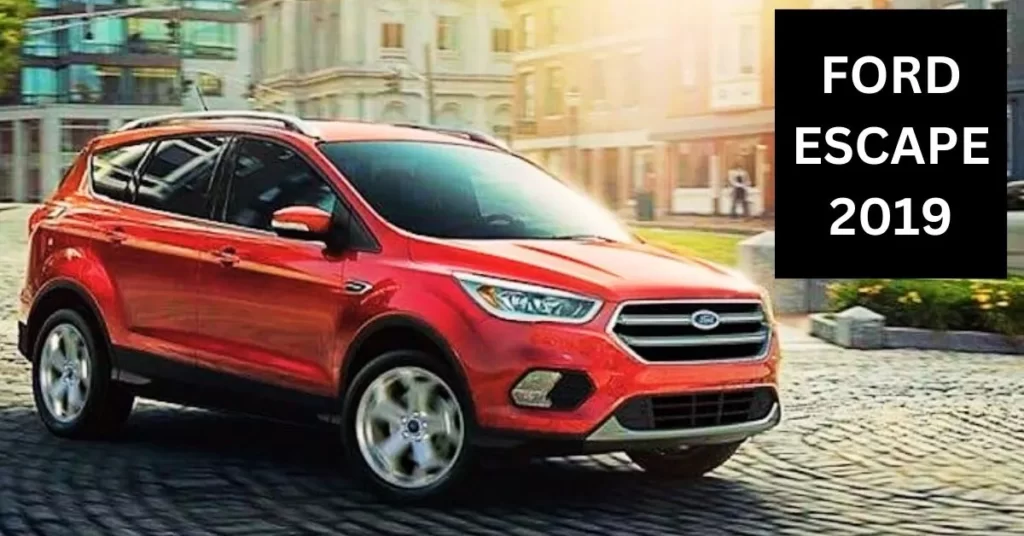 Conclusion
The 2019 Ford Escape is a versatile and reliable SUV that combines spaciousness, advanced connectivity, and a range of powertrain options. Its unique design, impressive towing capacity, and exceptional fuel efficiency make it a standout choice for those seeking a practical and stylish compact SUV. It effortlessly accommodates varying towing needs, providing the flexibility to tow loads ranging from 1,500 to 3,500 pounds, depending on the engine configuration and additional towing package selected.
By following these guidelines, owners can confidently utilize the Escape's towing prowess and relish a successful towing experience. Moreover, we encourage individuals to seek advice from seasoned tow operators or automotive experts who can provide tailored assistance based on their unique towing needs. For more comprehensive information regarding towing capabilities and available towing packages, we recommend visiting the official Ford website or reaching out to local Ford dealerships.
Explore more:
Ford Escape towing capacity 2023
Ford Escape towing capacity 2022
Ford Escape towing capacity 2021
Ford Escape towing capacity 2020
Frequently Asked Questions
What is the towing capacity of the 2019 Ford Escape?
The 2019 Ford Escape to really maximize its capabilities, you'll want to couple the available 2.0L EcoBoost engine and the Class II Trailer Tow Package, and you'll get a maximum towing capacity of a whopping 3,500 pounds. That's more than enough power to haul almost anything you can think of, be it dirt bikes, camping gear, or anything in between.
Can a 2019 Ford Escape tow a camper?
Yes, the 2019 Ford Escape is a small, yet powerful compact SUV, with a towing capacity of up to 3,500 pounds when properly equipped. The Escape caters to a diverse set of requirements, depending on the specific engine configuration selected has the capability to tow a wide range of campers. This allows you to tow a lightweight travel trailer, a utility trailer, or a couple of small campers.
What is the towing capacity of the 2019 Ford Escape 2.0 EcoBoost?
For those seeking enhanced towing capabilities, the Escape offers an optional Class II Trailer Tow Package alongside the 2.0L EcoBoost engine. When equipped with this combination, it unlocks the SUV's maximum towing capacity of up to 3,500 pounds. This feature empowers drivers to confidently tow heavier loads, making it an ideal choice for those with larger trailers, ATVs, dirt bikes, personal watercraft, or additional cargo requirements.
Does the 2019 Ford Escape have a tow package?
Yes, the Class II Trailer Tow Package as a dealer accessory is available Ford Escape does not offer factory-installed towing equipment. Trailers over 2,000 pounds require an optional Class II Trailer Tow Package and a 2.0L EcoBoost engine.
Aaron Bennett is an accomplished author and a true aficionado when it comes to pickup trucks. With an unwavering passion for all things automotive, Aaron has dedicated his life to exploring the world of pickups and sharing his expertise with others. As the proud owner of several powerful machines, he has spent countless hours behind the wheel, navigating rugged terrains and conquering highways with unrivaled enthusiasm.