The Ford pickup trucks are efficient enough to deliver a power-packed performance with outstanding reliability. The latest Ford trucks are able to perform the toughest towing jobs.
Ford pickup trucks including F-150, F-250, and F-350 offer powerful performance when it comes to towing a travel trailer, fifth-wheel trailer, cargo, and other equipment. 
What is the Ford Tow Technology Package?
For instance, the light-duty F-150 can tow up to 14,000 lbs when properly equipped with towing packages (Max Trailer Tow Package). Likewise, the Super Duty Ford F-450 can offer up to 37,000 lbs max trailering capacity.
The maximum rated towing capacity is achieved only when the Ford pickup truck is equipped with a tow package. So, What is the Ford Tow Technology Package? 
What is the Ford Tow Technology Package?
As discussed above, if you want your Ford truck to offer maximum towing capacity, you need to install the optional Max Trailer Tow Package. This package includes additional trailering equipment, enhanced mechanical elements, and various advanced trailering systems to boost the towing capacity. 
In addition to the trailer tow package, new Ford pickup trucks are also available with the Tow Technology package.
Let's take an example of the popular Ford F-150 Pickup truck. The available Tow technology package on F-150 includes Pro Trailer Backup Assist, Smart Trailer Tow Connector, and Integrated Trailer Brake Controller (TBC). 
The 2023 Ford F-150 Pickup truck is available with various new tow technology features which are discussed below.
2023 Ford F-150 Tow Technology Package
Smart Hitch 
The all-new F-150 is available with a Smart Hitch system that delivers the technology to distribute the weight in the tow trailer. This smart system shows the approximate trailer tongue weight in the center touchscreen and informs you that your trailer weight is distributed correctly.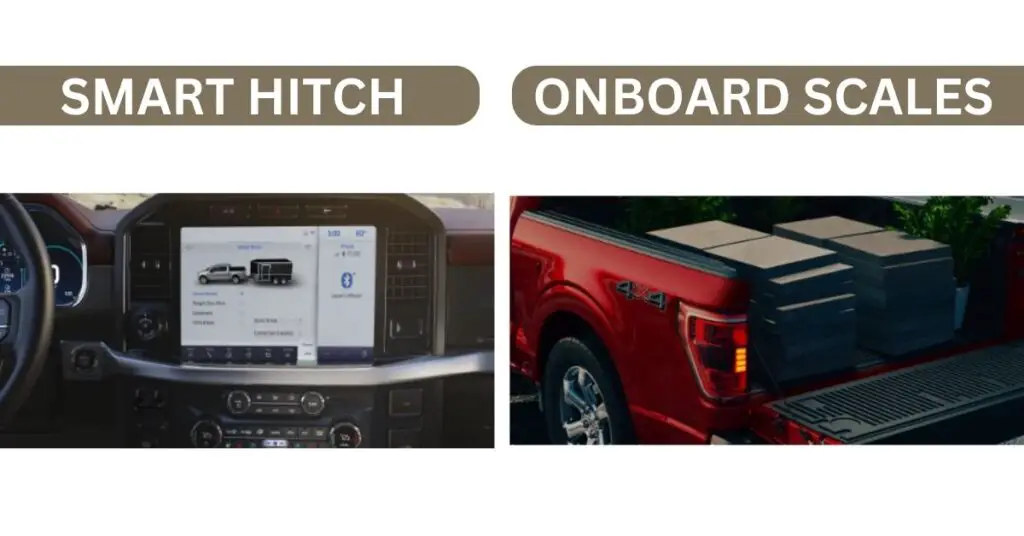 Onboard Scales
The Onboard Scales feature informs your load status in the SYNC 4 screen or an LED visual display in the taillamps as you add a payload. It ensures the weight is balanced, and doesn't exceed the capacity of your vehicle.
Smart Trailer Tow Connector
The available Smart Trailer Tow Connector is also among the important Ford Tow Technology Packages. This feature is a part of the F150's trailer monitoring system that informs whether the connection is faulty, or if something isn't connected properly. It alerts you of certain issues that may need urgent attention. 
For example, the Smart Trailer Tow system alerts you via the tow activity screen when your tow or turn indicator lamps are off, or there are problems with the trailer battery or brake lamps.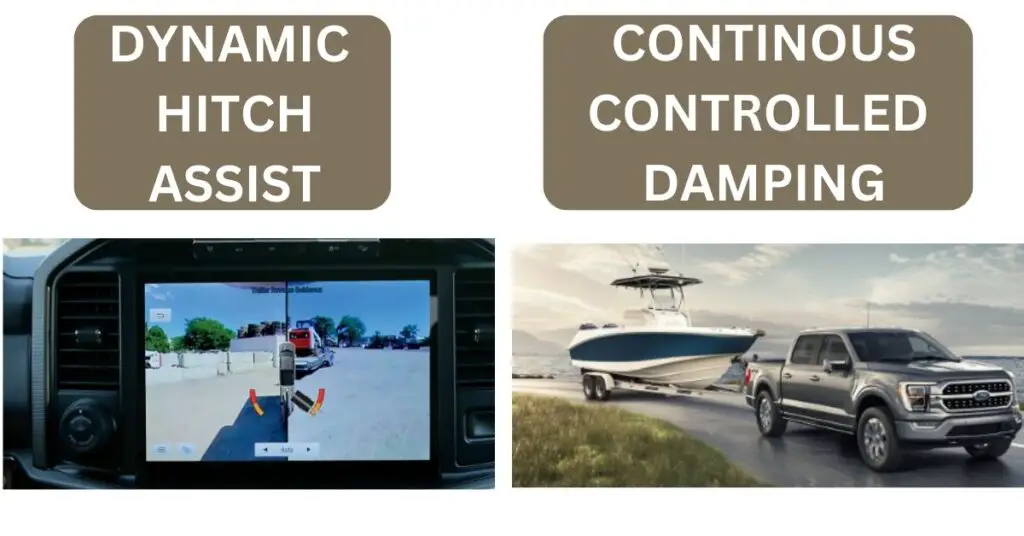 Dynamic Hitch Assist
Dynamic Hitch Assist is another important feature of the Ford Tow Technology Package as it assists you in lining up, and attaching a trailer to your Ford F-150 Pickup truck. 
Once you activate reverse gear, the Dynamic Hitch Assist will guide you to align your hitch with a trailer using the lines that indicated the direction your truck will travel in reverse.
Continuous Controlled Damping
As the name suggests, the Continous Controlled Damping technology adjusts suspension damping to enhance vehicle control when towing or hauling heavy loads.
This Controlled Damping technology monitors the suspension position, vehicle loading, speed, road conditions, and steering to make an adjustment. This feature is standard on the F-150 Limited model while it is available on LARIAT, King Ranch, and Platinum.
2023 Ford Super Duty Tow Technology Package
The all-new 2023 Ford Super Duty trucks are equipped with intelligent towing technology features to simplify your towing experience.
Here are the key Tow Technology package available for the 2023 Ford Super Duty trucks.
360 – Degree Camera Package
The available 360-degree trailer camera system allows the driver to observe 360° views of all sides of the truck, and trailer. Ford recognizes this technology as an eye-in-the-eye perspective.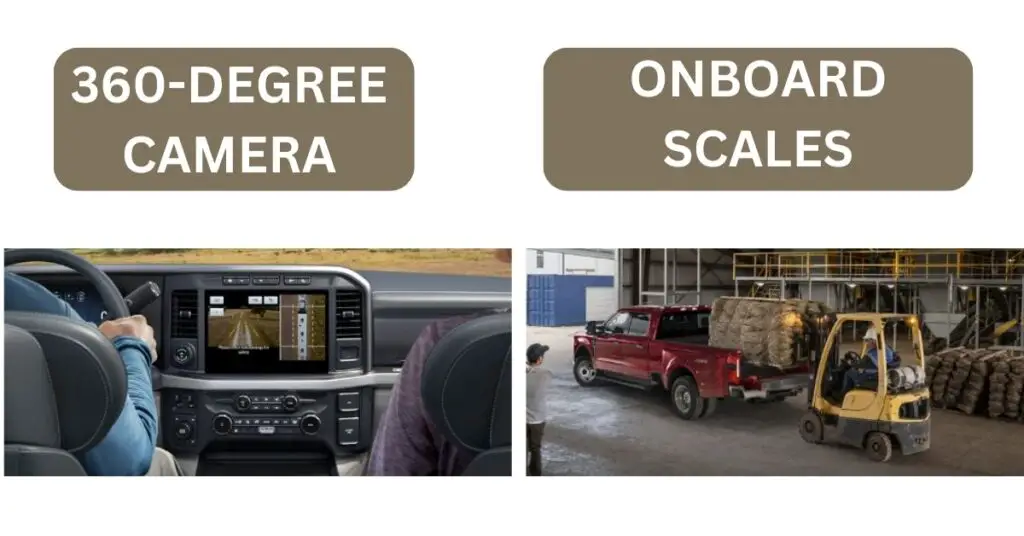 Built-in On-Board Scales
The Ford Super Duty Pickup models including LARIAT, King Ranch, Platinum, and Limited can be equipped with the available built-in onboard scales.
The On-Board Scales assist you in estimating the weight and balance in the pickup truck bed as you put your payload in.
Pro Trailer Hitch Assist
This is also an available feature in the Ford tow technology package that allows you to stay put, without having to hop in, and out of the cab to see if your hitch is lining up.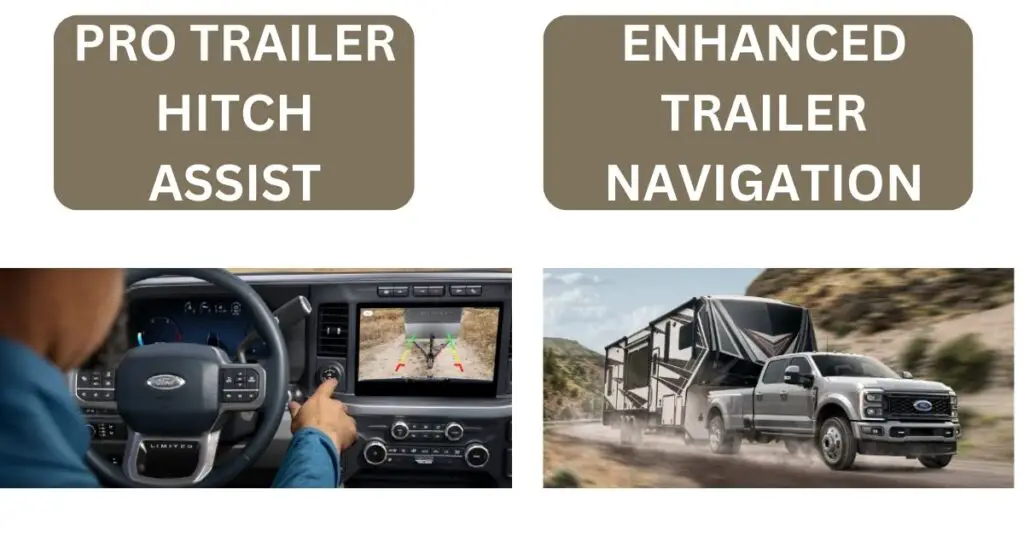 Enhanced Trailer Navigation 
The Enhanced Trailer Navigation technology keeps the size of your trailer in mind and adapts the route based on height and width clearances. With this feature, you avoid jam-ups like low bridges and tight corners.
Conclusion on 'What is the Ford Tow Technology package?'
With the advancement of automobile technology, we are able to witness some of the finest tow technology features that are highly important for safe and secure towing.
Ford Pickups are the most famous trucks in the United States, thanks to their powerful performance, and towing features. Upcoming Ford F-150, and Super Duty pickups are equipped with new-generation technologies that make your towing job simpler.
To find out whether your Ford Pickup truck is available with the Tow Technology package, you can visit Ford's official website, and check features, build, and pricing. 
Stellan Carter is an accomplished writer, entrepreneur, and avid Ford Raptor owner. As a co-founder and content contributor for this renowned blog website, Stellan brings a wealth of knowledge and expertise to the automotive industry. When he's not behind the wheel of his beloved Ford Raptor, Stellan can be found exploring new terrains, capturing the essence of his automotive adventures through his camera lens.